Here you are the best agency in Ankara and Turkey for social media management. Professional social media consultancy packages are at eSa.
What is Social Media?
It is called the name of the network where the user can share his own article, picture or video with other people without any restrictions. In a few words, we can say that any place where sharing can be done without user constraints is social media.
There are different ways to reach users and customers in the constantly evolving Internet industry. Our adventure, which at first started with site content, Google ads, video ads and SEO, then continues with social media ads.
Currently, the most known is sharing more needed than advertising on Instagram and Facebook. We offer consultancy services to our valued customers professionally.Because the constantly evolving Internet sector is getting harder to follow and become a burden for companies. At the same time, the customer potential is very high in this medium, which turns to the issue of need.
In your social media accounts, you need to show that you are competent, with the presentation of the photos you took and the short promotional videos made. In order to have more followers on Instagram, there are many factors such as tagging, post-type and content quality. You can leave the management of your social media accounts to eSa Web Design and sit back.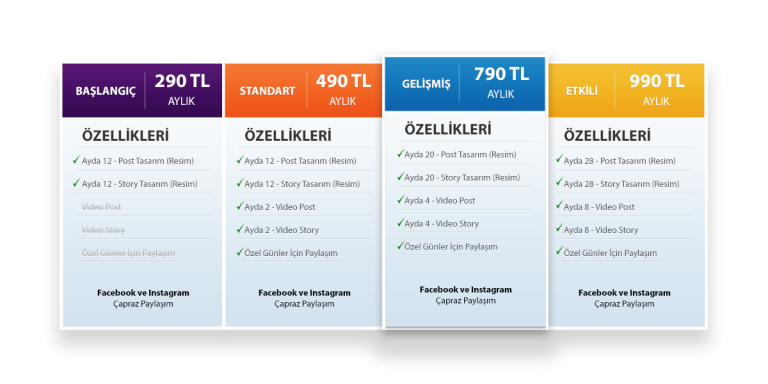 Social Media Management Prices
In the startup package, even if you do not have Facebook and Instagram accounts, we'll open your accounts and make ready to share immediately.We prepared social media management packages for every budget. If you wish, we can create a customized media package for your needs. In this way, you can start by taking a step towards the Internet for your company.
Post Design (Picture): We design unique pictures for your company that can be shared on Instagram and Facebook.
Story Design (Picture): Picture sharing that can be posted on Instagram and Facebook and can be shown for a maximum of 15 seconds.
Video Post: It is the video space that can be shared on your Instagram and Facebook account, maximum 60 seconds. (The videos we prepared are between 20 and 30 seconds.)
Video Story: It is a video with a maximum length of 15 seconds that can be shared on Facebook and Instagram.
Sharing for Special Days: It is a video or picture visual prepared for holidays, celebrations or special days.
Social Media Consultancy
After choosing your accounts with the right brand names, it is very important to write the description sections correctly and effectively. You do not need to have a social media account if you have not entered at least 150 letters of correct description. Because the login screen of your page is the most important and crucial part. If you have your own website on the login screen, it would be appropriate for your brand. Because you are now logged into the Internet World and influencing and reaching your customers in every branch will inevitably take you to the next level.
If you need a website, click here to choose the appropriate package for you
If your current logo does not reflect your work and name, be sure that it will not be permanent in users' minds.Your logo is actually a visual version of your brand name and should be unique.Even if your logo picture passes anywhere, not your name, it is possible that your customers will recognize you.
Vivid colors should be used in visual designs and should be impressive by using the meanings of colors.For example, sharing a product photo may not attract the customer's attention.However, the photo of your product on a white background can be made more attractive when visually enriched with a harmonious slogan and affordable price.
The preparation of a 15-second story video is in a similar proportion as a sort of the customer information service.It's not how much you tell in 15 seconds, but how memorable the highlighted video is. When you make a discount on your existing products, you can effectively announce to your followers in this 15-second video. Or you can make your social media management service greatly beneficial by using our advertising consultancy service.